Review Of Arturia Jupiter-8V
So before further ado, let's address the elephant in the room. The Arturia JP-8V does an excellent emulation of the famed Roland Jupiter 8, albeit a hyper-present and ultra-clean version. However, if that's all you care about, you're missing a big part of what makes the JP-8V a killer soft synth.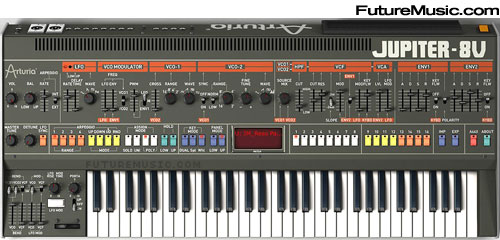 Arturia obviously did their homework. The JP-8V really does sound like Roland's 16 oscillator analog flagship — a voice that defined the early '80s Pop music sound. The Beast, as it was known in some circles, featured eight "whopping" notes of polyphony, oscillator sync, polyphonic portamento, cross-modulation, a rocking arpeggiator and tasty resonant filters. Using Arturia's new TAE sound engine, the JP-8V is a great showcase of their next-gen engineering muscle. More!
Read the rest of the Arturia Jupiter-8V review on FutureMusic's TestDrive.