Mu Technologies Debuts Mu Voice
Mu Technologies has released Mu Voice, a new VST plug-in that allows you to tune your vocal recordings, apply special effects and add natural sounding harmonies when mixing your track. Mu Technologies claims that their proprietary spectral analysis and synthesis techniques for vocal processing sets new standards in vocal processing. Mu believes that the processor would would nicely live on state with an internal delay of 5.8 ms.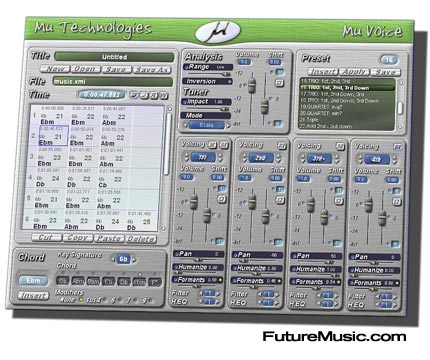 Features:
• Intelligent Harmonizing: An "intelligent" harmonizer takes into account the musical context of a piece like chord and scale information. This is exactly what Mu Voice does. A four track mixer allows to configure the voicing (1st, 2nd, 3rd or 4th voice) and octave for each channel.
• Scale / Chord Selection: The chord panel offers a straight-forward interface to select chords. When a given key signature is selected, the diatonic series of chords is displayed. By clicking the chords and modifiers, a chord is selected for harmonization.
• Chord Scheme Editing: Chords can be added to a scheme by pressing the "Insert" button or double clicking them. By clicking an item in the scheme one can navigate through a chord scheme.
• Mixer: The mixer combines all four track and allows to mute certain channels with the [M]-button. The first channel can be put in bypass ([B]-button). A pitch shift slider adds an extra interval to the channel. The range of the shift slider is expressed in half tones can be quantized by pressing the [Q]-button.
• Tuner: Mu Voice comes with a built-in tuner that has a parametric impact (0: no impact, 1: full impact). The tuner has two modes: "Chromatic" – tune to the closest half note, and "Scale" – tune to the closest note in the current scale
• Channel FX: In addition to the voicing configurator, the gain control and pitch shifter, each track has additional set of FX: Pan, Filters, Humanizing, Formants and Harmonic EQ-ing.
• Preset Management
• Full Automation: Write and Read Modes
• XML based file exchange
Mu Technologies Mu Voice is currently available as a VST plug-in for Windows and Mac OS X for the introductory price of $199 ( regularly $259). A demo is available for download. AU, RTAS and stand-alone versions are expected to be released soon. More information on Mu Technologies Mu Voice.