Ilio Premiers Samplebase – Online Sample Store
Ilio has launched Samplebase, a new online sample store that offers Loops, Phrases, and Multisampled Instruments. Ilio claims that every sample featured on the site has been reviewed by their team to meet certain standards of quality.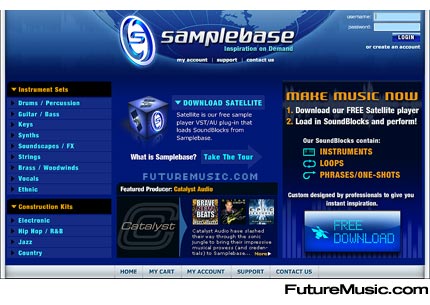 Samplebase offers an exclusive and free sample-playback synth engine dubbed Satellite. It contains professional features, such as automated time and pitch control with host tempo sync, syncable LFOs and effects, 16-part multitimbral operation with assignable MIDI channels, eight audio outputs, eight Quick Edit knobs for real-time control, Rex file support, and more. Satellite is a Mac/PC, AU/VST plug-in that works with most major host platforms. It is also available as a stand-alone application.
Fueled by an international artistic community, Samplebase features a wide variety of new sounds by well-known music industry talents such as Kaskade, Catalyst Audio, Peter DiStefano, and Def Jef, among others. It also highlights sounds produced by Ilio and the Vienna Symphonic Library, available in focused, premium, but affordable packages.
Samplebase Project Manager Mike Babbitt has gone a little overboard with all the snappy marketing descriptions: Samplebase, Satellite and now, Soundblocks…
Sounds on Samplebase are arranged into 20 to 200 megabyte sets called SoundBlocks that can be loaded directly into Satellite and used in host sequencer/DAW programs. Sound Categories include Drums/Percussion, Guitar/Bass, Keys, Synths, Soundscapes/FX, Strings, Brass/Woodwinds, Vocals, and Ethnic, providing state-of-the art ingredients for modern music production.
Ilio's Samplebase, Satellite, and SoundBlocks (Oh my!) is available now. The Soundblocks range in price from $19 to $39. More information on Samplebase.