AraldFX Releases Stormgate 3
AraldFX has released StormGate3, a multiband rhythmic gate that allows users to draw amplitude patterns and apply them to any sound to produce interesting rythmic sequences out of anything: pads, noises, vocals.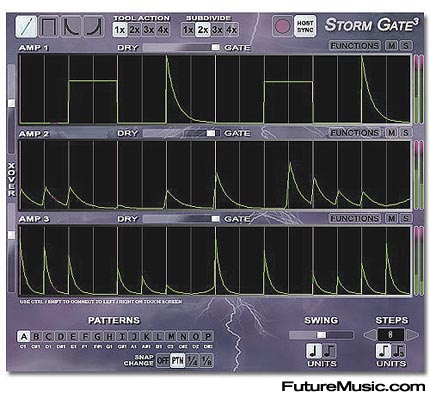 StormGate3 also features an envelope controlled filter with finer control over the cutoff frequency than most of the PCF on the market, MIDI CC output to control external synthesizers or effects, and multiband envelopes recording. In addition, you can use the envelopes to control external software or hardware synthesizers or effects by translating the envelopes to MIDI control change messages. Nutty!
StormGate3 Contains 4 Configurations:
• Three bands mode: a pure three band rhythmic gate!
• DIST+LPF+GATE: Three serial effects: analog sounding overdrive, low-pass filter and a gate!
• LPF+DIST+GATE: Similar to the previous configuration, but you can get sounds similar to those produced by the Roland TB-303 thanks to the analog sounding overdrive effect placed after the resonant filter.
• Two bands mode: overdrive on the lower band and gating for both bands!
AraldFX's Stormgate 3 is available now for download as a pre-release for $59. It comes in these flavors: PC/VST, MAC/VST (and MAC/AU with no MIDI support). More information on AraldFX Stormgate 3.