Softube Studios Releases Vintage Amp Room For VST & AU
Softube Studios has released Vintage Amp Room as VST/AU plug-ins for native platforms and PowerCore. VAR had only been previously available for Pro Tools|HD only. Vintage Amp Room emulates three guitar amps in a complete studio set-up with speaker cabinets and fully flexible microphone positioning.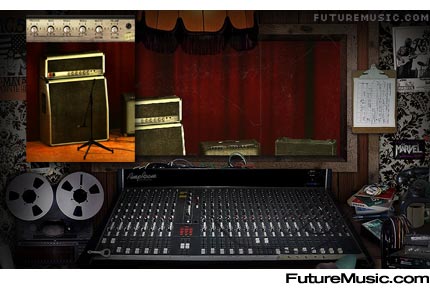 Focusing on quality and accuracy, it simulates amps with sounds that are timeless and authentically raw. The three amps range from pleasant guitar sounds with warm yet intense power amp distortion, through clean, crisp and clear, but also warm, thick and punchy, all the way to edgy, distorted rock 'n' roll sounds.
Vintage Amp Room is easy to use for live performances and recordings, as well as for re-amping and last-minute tweaking. Softube Studios claims its goal is not to give you a pre-produced, ultimate guitar sound, but to provide you with the ultimate tool to create your own.
Features:
• Three great-sounding vintage amp models that behave like real amps
• Flexible and continuous click-and-drag mic positioning
• Fully automatable parameters
• 3-D rendered photo-realistic user interface
• Compatible with all effects that work with real amps
Softube Studios' Vintage Amp Room is available in both Native and PowerCore VST and AU formats for Windows and Mac OS X for Native VST/AU: $429 / €349, PowerCore VST/AU: $489 / €399. A 10-day demo version is available for download, but iLok is required. Bummer. More information on Softube Studios' Vintage Amp Room for VST/AU.