Christian Knufinke Software Releases SIR2 Impulse Reverb Plug-In For Windows
Christian Knufinke Software, (has a proper marketing ring to it, right?) has released SIR2, a reverb plug-in for Windows. SIR2 is the commercial successor to the free SIR1. Knufinke claims SIR2 offers zero-latency processing without taxing your CPU. It includes high definition impulse responses (HDIR) of actual locations produced by Pinguin, Hamburg, as well as the ability to import responses from free or commercial sources.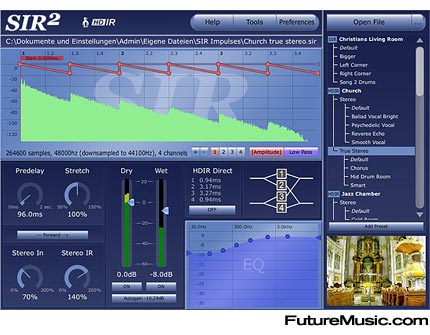 Features:
• Zero latency processing
• Includes Pinguin's High Definition Impulse Responses
• "True Stereo" processing (a stereo convolution takes place for every source channel (left + right))
• High-quality internal sample rate converting
• Separate dry/wet control (-60db .. +20dB)
• Auto-gain
• Free non-destructive amplitude envelope
• Free non-destructive filter envelope
• Predelay (0ms – 2000ms)
• Stretch control (high quality resampling).
• Forward / reverse switch
• Stereo In / Stereo IR Control
• Preset-managing
• Linear phase FFT-EQ
• Signal routing options
• HDIR-Direct On/Off switch
• Imports WAV, AIF, FLAC, BWS, OGG file formats
Christian Knufinke Software's SIR2 costs a significant €149 and is available in the VST plug-in format. A demo version is available. The Pinguin HDIR Extra Package featuring 12 additional high-quality impulse responses for SIR2 is also available for a whopping €129. SIR2 and HDIR can be purchased together for €239. More information on Christian Knufinke Software SIR2.