Homegrown Sounds Releases Astralis C
Homegrown Sounds has released Astralis C, the third synth from the Astralis VSTi collection and is capable of producing a spectrum of sounds ranging from lush landscapes through to Hypnotic Trance Rhythms. The synth uses either 16- or 24-bit mono/stereo samples as its sound source. The Samples are divided into 50 banks, which is accessed from a custom samples folder. A bank is simply a sub folder which contains WAVs which are then selectable from a list within Astralis C.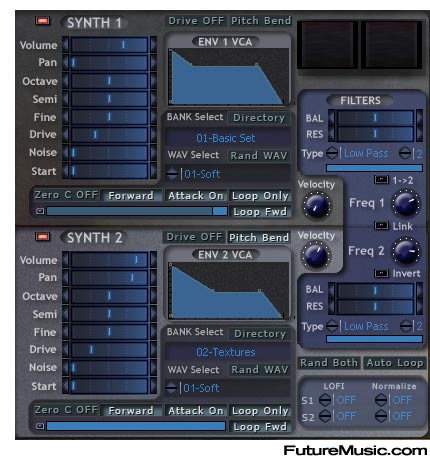 Astralis ships with 2 banks of high quality samples and 128 presets and is available as a download along with the included bonus sample library. Although only available to registered users, Astralis A and B are still available as fully functional shareware for 30 days to evaluate the Pack.
Astralis C has been optimized and is light on CPU considering the breadth of its capabilities. The ability to use custom samples in the synth unlocks the full potential of the Astralis system. A custom Sample location can be chosen when installing in the same way as the Microtonal Patches.
Features:
• Two Stereo Samplers which can load 16/24 bit samples
• Loop points selectable between embedded or user edited as well as a fine tuning screen
• Gate Sequencer now has 2 new Destinations, sample 1 and 2 and can be used to shift the playhead position for beatslicing type effects
• Wavetable Synthesis via Mod Matrix
• Start or end Loop Points can be modulated
• Sample Start Position can be Modulated
• Normalize Sample to 5 different Levels
• Progressive Lofi modes
• Forward or Reverse Modes
• Attack Section On/Off
• One shot/ Loop with Release or Loop Only playback
• Loop Section Fwd or Alternate
• Random Sample selection from Banks
• Optimized CPU usage
All Astralis Synths Feature:
• A Microtuning Patch System
• Two Modulation Sequencers
• A Gate Sequencer
• Cascadable Filters
• An Advanced Modulation Matrix
• Programmable Zones
• A Pitch Bend Zone
• Multi FX Section with Reverb, Delay, Echo, Ring Modulation, Clipper, Organic and an 8 Band EQ
• Noise and Drive per Oscillator
• Spread
• A Voice Modulator
• An Arpeggiator
Homegrown Sounds' Astralis C costs £30 and is available for Windows in the VST format. More information on Homegrown Sounds Astralis C.