Sergio Releases iPod Mixers For Your Little Sister
Sergio has announced the iBuddy and iSpin "DJ" mixers, that will certainly appeal to the tween market segment who want to pretend they're DJing like their older siblings.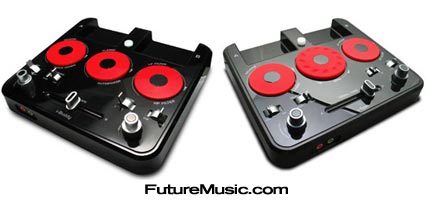 The iBuddy features the ability to mix between two iPods with their integrated dock/chargers, or any other audio sources via a line in input. The "wheels" control a couple of basic effects including flange, reverb and filter with a cross fader to switch between sources.
The iSpin offers the same action as the aforementioned iBuddy, except for a different effect scheme, Pitch Down, Reverb, Filter, and a Spin dial in the center that is poorly described as to what it actually achieves.
The Sergio iBuddy and iSpin come in black or white color schemes. No pricing or availability have been announced. More information on the iSpin and the iBuddy.