Audeon Releases Mac Version Of UFO Synth
Audeon has released a Mac OS X version of their software synthesizer UFO (Unique Filters and Oscillators). UFO is built upon Audeon's proprietary TransModal Synthesis technology, which claims to make sound programming flexible and intuitive.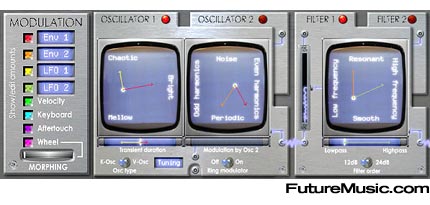 With TransModal Synthesis technology, Audeon asserts you can describe the main characteristics of your sound by balancing perceptual attributes like Brightness, Periodicity, Noisiness, Resonance, Chaos or Transient duration and then modulate any of aspect of the sound character over time (with LFOs and envelopes) or depending on the way you play (velocity, aftertouch, etc).
How it works:
• The sound is defined by various perceptual attributes such as Periodicity, Brightness, Noisiness, Chaos, etc. These sound characteristics are mapped to two-dimensional (XY) control surfaces. Programming a sound comes down to placing dots on these controllers for getting the desired balance between these characteristics.
• The timbre of the sound can be modulated graphically: you simply draw arrows on the control surfaces indicating the way the sound is altered by the various modulations. UFO's synthesis engine allows hundreds of simultaneous modulations, offering a great deal of expressivity while remaining very easy to program thanks to the graphical representation of the sound.
The Mac version of Audeon's UFO is available now as a VST plug-in and costs $139 / €119. More information on Audeon UFO for Mac OS X.