Shanling Unleashes MC-30 Music Center
The Shanling MC-30 Music Center, a tube driven, brushed-aluminum iPod docking station with a CD player and radio tuner is now shipping. The MC-30's single-ended tube amplifier outputs 3 watts per channel. and also sports a remote control to tweak all functions from the comforts of your couch.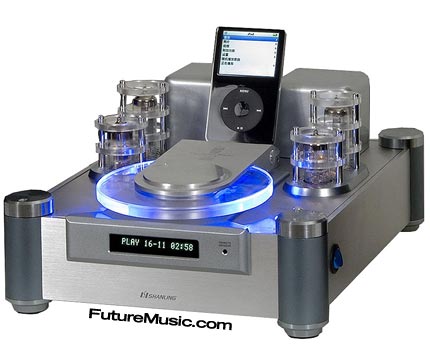 We've seen several tube-driven iPod systems in the past including the Fatman and the Roth Music Cocoon MC4, but don't know if anyone actually purchases an expensive, blown-out system to play compressed AAC or MP3 files…but these units sure look purdy.
Features:
• Combining high quality CD player, tuner, dedicated iPod input and tube power amplifier in one chassis
• Philips VAM-12 pick-up mechanism coupled with CD-7II servo system for low jitter tracking
• D/A conversion is accomplished by Burr-Brown PCM1738 DAC chip
• High-quality FM/AM tuning system
• 2x6P1 single-ended tube output stage
• Mini multi-functional lever, concealed input selector and volume control
• All aluminum chassis with cylindrical support and internal screening
The Shanling MC-30 Music Center costs $995 beans. More information on the Shanling MC-30 Music Center.