Crysonic Updates nXtasy To Version 2
Crysonic has released nXtasy V2, an analog-based multi-octave harmonic saturation plug-in for Mac and PC. With 64-Bit internal precision nXtasy can be used throughout the entire chain of music production from tracking, live use to mixing and final mastering. The primary ability of nXtasy is to add multi-octave harmonics and create tube-like saturation effects. It also works well foradding punch and clarity to any audio material, as well as enhancing any sound lacking in harmonic content.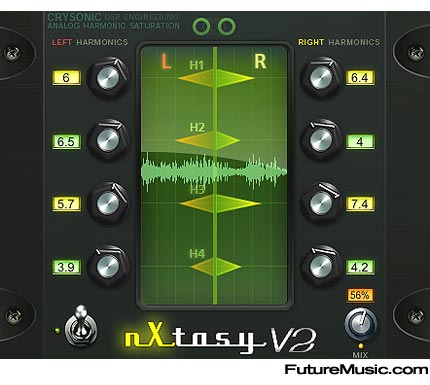 Features:
• Multi-Octave Vintage Harmonic Adjustment
• Analog Saturation induction
• Tape Saturation induction
• Separate Left and Right Channel control
• Linking of Harmonics Channels
• Graphical LCD Panel
• Mouse Over Help/Hint per control
• Wet / Dry Mix Dial
• Full automation for all parameters via the host
• Extremely efficient CPU usage
• 64-bit internal precision
• 24bit/96Khz audio support
• Optimized assembly DSP code with Vectorization on the Mac OS X Platform
nXtasy V2 is CPU efficient and can easily be applied to many tracks at once without straining system resources. Comprising of a friendly user interface with an LCD Panel layout, nXtasy V2 enables rapid tweaking to establish the right sound for your requirements.
Crysonic's nXtasy V2 is available now for the introductory price of $54.95 until 15 July 2007 when the full price will be $64.95. All previous customers receive a 55% discount. It is available in VST and AU formats for Windows and Mac OS X Universal Binary. Demo versions are available for download. More information on Crysonic nXtasy V2.