AKG Announces New Wireless C5 & D5 Vocal Mics
AKG has announced wireless versions of the C5 and D5 microphones through collaboration with their WMS 4000 wireless system. The new C5 and D5 wireless microphones offer two interchangeable microphone heads for the HT 4000 handheld unit, as part of the WMS 4000 wireless system: the C5 WL1 condenser vocal microphone and D5 WL1 dynamic vocal microphone.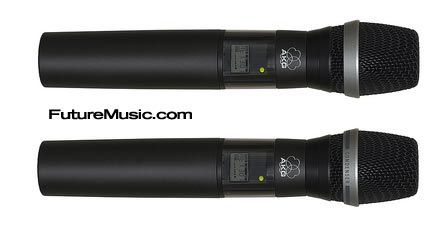 The C5 condenser microphone and D5 dynamic microphone each feature a dent-resistant spring steel elastic wire mesh cap for safe protection of the capsule element, as well as an integrated shock absorber system for compensation of handling noise. Additionally, the D5 features Laminate Varimotion diaphragm technology in an effort to deliver a smooth and controlled frequency response and the highest gain before feedback.
Offering 30Mhz wide UHF band with up to 1200 selectable frequencies, the WMS 4000 wireless system consists of the SR 4000 receiver, HT 4000 handheld transmitter and PT 4000 bodypack transmitter. The WMS 4000 wireless system includes a backlit display, battery life indicator, silent mode, environment scan, auto setup frequency search and rehearsal functions.
More information on the AKG Wirekess C5 & D5 Vocal Mics.