MixVibes U46 MK2 Mobile DJ Audio Interface Now Shipping
MixVibes is now shipping their U46 MK2, a mobile recording audio interface for DJs who are rocking a laptop computer. We first told you about the U46 MK2 in February with Mixvibes promising a late March delivery date. Well, what's three months… To refresh you, the Mark II is a 4-IN / 6-OUT multi-channel audio interface with a separate Mix output and 2 Phono inputs tailored for the DJ market.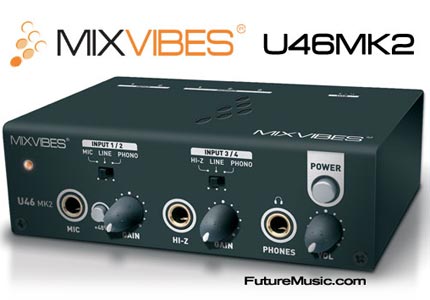 U46MK2's flexible 4 inputs provide you to record from a variety of sources: 2 Phono / Line inputs; 2 stereo Line inputs; MIC input with +48V phantom power; Hi-Z (For Electric Guitar) input. Multi-channel outputs with Mix out 6 line level analog outputs allow you to connect various external devices or to a 5.1 DVD surround connection. A separate Mix output and headphone output allows you to monitor your sound system directly. U46MK2 offers all these features in a rugged, compact package that can travel with you anywhere.
Features:
• 4-in 6-out multi purpose USB audio interface
• 2 phono inputs and 4 line inputs
• Microphone inputs with gain control
• +48V phantom power for condenser mic.
• Direct instrument input for Electric guitars
• (Hi-Z) with gain control.
• 6 line analog outputs with separate mix output
• Headphone output with level control
• 4 channel recording and 6 channel playback at the same time; full duplex
• 4-in 6-out at 44.1 kHz / 4-in 4-out at 48 kHz
• WDM, MME, ASIO, and DirectSound support
• Ultimate Audio Tools software package with the full version of MixVibes 3DEX
• Compatible with Windows XP (Service Pack2 recommended) and MAC OS X
The MixVibes U46 MK2 will set you back $239 / €167. More information on the MixVibes U46 MK2.