AlgoMusic & BK Synthlabs Release AMB ElectraBass
AlgoMusic and BK Synthlabs (AMB) have released ElectraBass, a virtual synth that "focuses on Bass and Leads with a futuristic sound." This AlgoMusic-BK synthlab collaboration provides ElectraBass with two harmonic oscillators, four different effects, a unique 32 stage sequencer and a complex filter.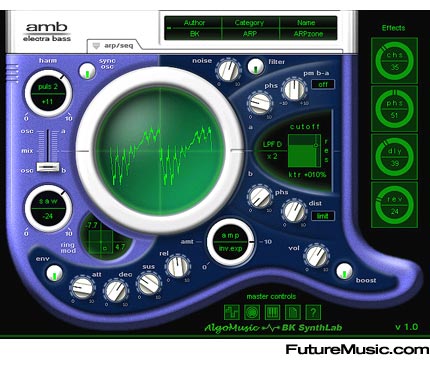 Features:
• 2 Harmonic oscillators offering 11 waveforms each with phase modulation, ring modulation, sync and a noise oscillator
• Complex filter with 13 types of filters and x-y grid for cutoff and resonance
• 8 dedicated envelopes to selected targets with 7 types of velocity curves
• 2 BPM synced LFOs with phase modulation
• Portamento with re-triggering, pitch bend amount, MIDI channel select and master BPM
• 3 different forms of distortion
• Velocity sensitive controls with keyboard tracking of phase modulation and distortion with master volume and boost controls
• Unique pull down 32 stage sequencer offering piano grid style editing and complex algorithmic arpeggiator along with volume and cutoff control for each stage
• 4 different effects: Chorus, Phaser, Stereo delay, Digital reverb
• Dedicated vibrato for modulation wheel
• On board click and learn help system
• Preset information display
• Low CPU cycles
• 128 presets by Boris K, David Haupt, Dr. Ambient, and Tim Conrardy
The AMB ElectraBass costs $35.00 / €26.00 and is available as a VST instrument plug-in for Windows. A demo version is available. More information on AMB ElectraBass.