Wallander Instruments Announces WI Visual Instruments Series
Wallander Instruments has announced details on their new WI Visual Instruments series, which are collections of virtual instruments that combine advanced behavioral modeling/positioning with sampled data from acoustic measurements and recordings of real instruments.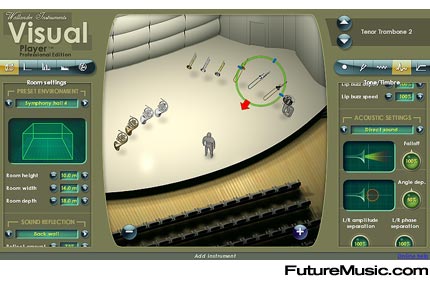 Wallander boasts that WIVI instruments' power comes from their extreme realism and expressive capabilities. Reportedly, you have full continuous dynamic range of each instrument at your disposal, and true-to-life tonal control. In addition, the WIVI wind instruments are designed to work with a breath or wind controller. Advanced controllers are optional, but the key issue here is that WIVI is designed to provide full expressiveness while maintaining stability, phrasing and tonal development automatically. Unlike anything you're used to, WIVI instruments behave, sound and respond like real instruments.
The WIVI synthesizers also include a custom-built acoustics engine, responding to positioning and rotation of both yourself and all instruments. Every single voice is automatically given correct audiospatial properties. The engine allows full control over direct sound, early reflections and late reverb, for each instrument separately.
When using WIVI, you access all your instruments from one common player. A single WIVI instance can hold any number of instruments. If you want to add instrument collections, you simply purchase and download the additional instrument files from our site. Installation is as easy as copying the new instruments to WIVI's instruments folder. The added instruments will automatically be available the next time you load the software. All instrument collections include the universal player.
Wallander's first product will be Brass 1, which comes in a professional edition and a trial edition. The trial edition is a free download, and is meant to be used for previewing the engine, and to demonstrate the capabilities of the WIVI instruments. It is recommended to always try the Brass 1 trial edition on your computer before purchase, as it uses an engine similar to that of all full version WIVI synthesizers.
Brass 1 Features
• Universal player
• Full set of instruments
• Unlimited number of instruments per instance
• Customizable instrument parameters
• Customizable reverb
• Easy integration with external reverbs
• Sample rates: 6 – 384 kHz
• Multiple environments
• Multiple visual themes
• Subscription to the update delivery service
Instruments included:
Trumpets 1, 2, 3 (in Bb)
No mute, straight mute, cup mute, bucket mute, solotone mute, harmon mute/no stem, harmon mute/stem inserted (wah-wah), harmon mute/stem extended (wah-wah), plunger mute (wah-wah).
Tenor Trombones 1, 2, 3
No mute, straight mute, cup mute, bucket mute, harmon mute/no stem, harmon mute/stem inserted (wah-wah), harmon mute/stem extended (wah-wah), plunger mute (wah-wah).
French Horns 1, 2, 3, 4
No mute, stopped, straight mute, dynamic stop (wah-wah).
Tubas 1, 2 (in F)
No mute, straight mute.
Wallander Instruments Brass 1 retails for $599 and will be available in the near future as a VST plug-in for Windows. A Mac version is reportedly in the works. The trial version is available now for download. More information on Wallander Instruments Brass 1.