Mondo Announces Mint Digital Music Station
Mondo has announced the Mondo Mint Digital Music Station, an iPod stereo system that consists of a mini Class-D digital amplifier, two bookshelf speakers, a remote control, and a wireless dock designed to remotely stream music from an iPod up to 100 feet away, as well as act as a charger.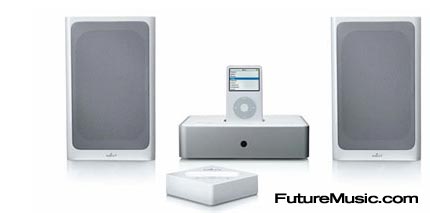 The Mint offers iPod, USB, Wireless Audio and Line In connections for use with a PC, Mac computer, iPod, MP3 player, CD player, satellite radio, TV or video game console. The Mondo Mint wireless dock contains proprietary digital wireless technology that allows consumers to uniquely turn their iPod into a remote control. When placed up to 100 feet away from the amp, music can be streamed, volume controlled, play lists managed, and more – from the couch, desk side, or from another room in the home.
Features:
• PurePath Digital technology from Texas Instruments
• Class-D digital mini amplifier with 70 watts at 4 ohms per channel and can drive 4-8 ohm speakers
• Two-way, wood-construction speakers with four-layer piano coat white finish and removable front grilles
• One-inch Peerless neodymium tweeters
• Four-inch AuraSound aluminum cone woofers
• Two Canare 1.5 meter speaker cables with high-quality, banana-type connectors
• Mondo Mint wireless dock
The Mondo Mint is backed by a one-year warranty and will be available in June for $349. More information on the Mondo Mint iPod Stereo System.