Wavelore Instruments Announces American Zither
Wavelore Instruments, a relatively new concern from Canada, has announced the release of its first commercial product, American Zither, a new sample library virtual instrument plug-in powered by Tascam's GVI (Giga Virtual Instrument). A Zither is a stringed instrument having usually 30 to 40 strings over a shallow horizontal soundboard and played with pick and fingers. However, the American Zither library were performed not with pick or fingers, but with wooden mallets.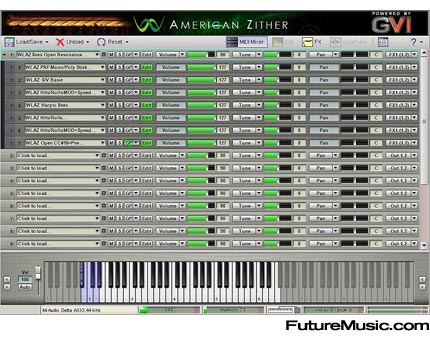 Wavelore's reference to the "American Zither" is a nod to a manufacturer who made such instruments in New Jersey (the Garden State) during the late 1800's through the first quarter of the twentieth century. For decades after that period, many models continued to be made by various companies, most of whom also operated in the New England area. The only instrument made in the U.S during this period which is still in production is the Auto-Harp, a zither that is strummed with a pick or the player's fingers while chord buttons are pressed to damp unwanted notes. This allows a sonorous accompaniment (typically) for a voice or other instrument. Think, The Lovin' Spoonful's, "Do You Believe In Magic?".
Features:
• 24-bit audio resolution
• Approximately 1.5 Gb of samples, after compression of the original 2 Gb of audio data.
• Recorded completely dry. Seamlessly integrates into your choice of virtual space.
• No loops; Samples decay fully and naturally. No truncation or extraneous noise.
• Approximately three-and-a-half octaves of playing range (A2-F6, or E2-C6), six velocity layers, and twelve round-robin/randomized samples per layer.
• Full implementation of GVI's iMIDI rules for realistic bends/vibrato, tremolo with speed control, and economic presets using just one velocity layer+spectral interpolation (Dynamic Expression Filter responding to velocity) for full dynamic range.
• Gigapulse resonance modelling with a variety of automation options in addition to the dry presets. Various resonance models are included as "shell" instruments, stackable with your other "Powered by GVI" instruments, offering user-definable sympathetic string and body resonance.
• Keyswitchable stacks using all articulations with all combinations of Gigapulse options.
• Expressive realtime performance capability.
• Integrated help files for the presets, engine, and Gigapulse models.
Wavelore's American Zither costs $79.95 (or $59.95 if you already own a piece of Syncrosoft-protected software) plus shipping. If you own Tascam Gigastudio or Tascam GVI, you can download and play the WLAZ trial version for free. More information on Wavelore Instruments American Zither.