Rain Recording Releases Nimbus AS1 Audio Computer
Rain Recording has released the Nimbus AS1, an upgradeable audio computer for the musician on a budget. Starting at just $1299.95 (£749), Nimbus is everything you need to record, edit and playback your music. The base model comes standard with dual-core processing, fast 667MHz RAM, dual SATA II hard drives and tons of room to grow.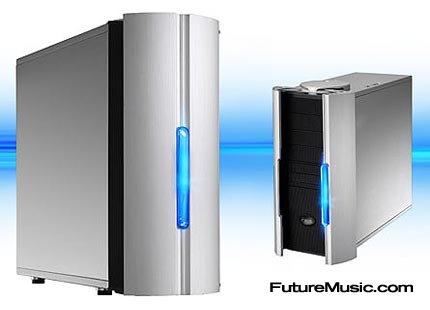 Nimbus featues an unique design with sleek scissor doors, top mounted USB/FireWire ports for easy access for audio peripherals and drive bays while the all aluminum construction keeps internal components passively cool and quiet. When it comes time to upgrade, the interior is ready for action with room for 4GB of RAM, 2 Terabytes of hard disk space and 3 PCI slots.
Shipping with the Windows XP operating system, Nimbus is also ready to roll with Vista, a no-cost option and, the new AS1 is optimized to work easily and efficiently with all popular audio hardware and software like Pro Tools and Cubase.
The Rain Recording Nimbus AS1 retails for $1,299.95 / £749. More information on the Rain Recording Nimbus AS1.