H.G. Fortune Updates ProtoPlasm 21 – Readies Pro Version
H.G. Fortune has updated their free ProtoPlasm 21 virtual synth. The new version features a new synth engine and new features including: Super Modulation Morphing (SMM), key-control on Delay (LKO), LFO modulation matrix and a dedicated Attack Oscillator. ProtoPlasm 21 was designed as an ambient sound generator and specializes in textures, soundscapes and pads. Even more with SMM and LKO there is a highly improved realtime control now. 384 patches included in the download. A Pro version will be released in the next few months. Due to the new architecture, this new release is not patch compatible with earlier versions.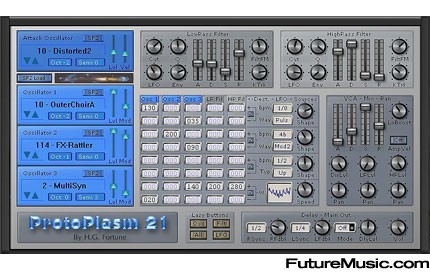 Features:
• One dedicated Attack Oscillator with 50 waveforms controllable by adjustable velocity amount
• Super Modulation Morphing via Mod Wheel at selectable rows for the Mod Matrix
• Modulation Matrix for LFOs with positive and negative inputs
• LKO system for delay with four keydependant modes
• three digital PCM-wave oscillators powered by 128 different waveforms (123 new ones!)
• each oscillator's level can be modulated by different sources via mod matrix
• one LP filter (24db Lowpass) with ADSR EG, Filter FM and keytracking
• one HP filter (12db Hipass) with ADSR EG, Filter FM and keytracking
• two shapeable LFO with patternlike waveforms (bpm-synced)
• one LFO with 21 complex waveforms and free speed adjustment
• one shapeable Sample & Hold with pattern (bpm-synced)
• adjustable level for direct, LP and HP output with separate pan each
• stereo-delay (bpm-synced)
• four Lazy buttons (Oscillator, Filters, LFO and All related params)
• Values within framed rectangles can be changed via mouse moving up/down (left mouse key pressed)
The Pro version will have 8 voices instead of only 4 (free version), Soundfonts for oscillators as external SF2 files, internal SF2 and Loadable WAV files.
The H.G. Fortune ProtoPlasm 21 is free. thePro version will be available shortly for only €39. H.G. Fortune ProtoPlasm 21.