Hercules Releases Mobile DJ MP3 – Wireless DJ Controller
Hercules has unveiled the Mobile DJ MP3, a wireless, compact and lightweight DJ Controller. The mixer is powered by two LR14 batteries and has a dual LCD display that allows the DJ to pick tracks and mix them without being tethered to a computer.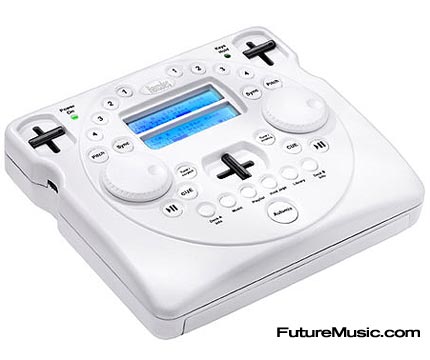 The Mobile DJ MP3 combines two decks for mixing, scratching and synchronising the MP3 or WAV files stored on the PC. Additionally there are a multitude of functions including cross fader, volume and pitch faders. The Mobile DJ MP3 syncs to your computer via a USB key, giving new meaning to plug 'n' play. The included software has an Automix feature that will automatically mix the next song if the current DJ passes out. Now the obvious downside: the name – "Mobile DJ MP3" – is atrocious, and the tired iPod white color only adds insult to injury.
Features:
• 2 deck controller
• Mix, scratch and synchronize MP3 and WMA files with the included DJ software
• Integrated double LCD screen: Mix your music away from the PC using the integrated double LCD screen which displays the tracks you're mixing
• Wireless
• Ultra-compact & lightweight: 17cm x 15cm x 3cm / 6.8" x 6" x 1.2" below 500 grams (1.1 pound), with batteries
• Fun Sounds & Effects: Add fun effects such as applause, loops and much more Yeesh!!
More information on the Hercules Mobile DJ MP3.