Antelope Audio Announces Isochone OCX-V Atomic Clock
Antelope Audio has announced the Isochone OCX-V Atomic Clock. The OCX-V is designed to make any connected device sound noticeably better. This is achieved through exclusive, DDS based, Acoustically Focused Clocking (AFC) technology.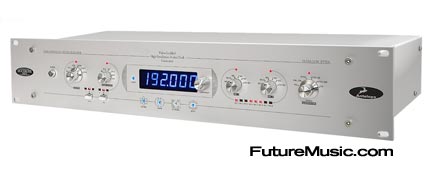 The most important component of any clocking device is the crystal oscillator. The OCX-V uses an Oven Controlled Discrete Transistor Crystal Oscillator, which is simply the highest grade crystal oscillator available. If the best crystal oscillator available isn't enough, the OCX-V offers even greater precision with its unique ability to lock to atomic clock. Jitter free operation is critical in the modern studio. Antelope's Jitter Management Module makes jitter essentially nonexistent. Adaptive Loop Filtering is taken to the next level with a sophisticated DSP Based Multistage IIR filter, ensuring a jitter free, great sounding studio.
With globalization and HDTV's rapidly expidly expanding presence, it's more critical than ever that studios accomodate a wide range of standards. The OCX-V offers seamless operation with PAL, NTSC, and over a dozen HDTV standards. Its versatility is taken a step further by supporting simultaneous 0.1% and 4% pull-up/down functionality, enabling unprecedented flexibility. These features, plus impressive gearboxing functionality make the OCX-V an indispensable tool for any video installation.
FEATURES:
• Ultra low jitter, oven controlled crystal oscillator, accurate to 1PPM
• Jitter Management Module for improved sonic performance
• Atomic Clock input resolves to Rubidium clock for ultimate stability
• DA mode cleanly regenerates the incoming reference prior to distribution
• The device locks to audio, video, HDTV and atomic clock references
• Built-in Video Generator supports PAL, NTSC and even NTSC 60
• Unique ability to lock Video Generator to audio eliminates video-induced jitter
• Full audio and video gearboxing with simultaneous 0.1 and 4% pull up/downs
• Flywheeling protects the studio from clock dropouts
• Extensive frequency and cable termination diagnostics
The Antelope Audio Isochone OCX-V will set you back $2200. More informaton on the Antelope Audio Isochone OCX-V.