Analogue Solutions Readying Next Batch Of Trans-Bass-Xpres 303 Clones
Analogue Solutions is readying their next batch of trans-bass-xpres Roland TB-303 clones. According to the guys who make these in their garage, the trans-bass-xpres contains the same analogue voice circuit as the original 303 with MIDI implementationand some extra features like noise, LFO, Overdrive and Squelch. The extra controls like cross mod and LFO of course expand the original sound palette.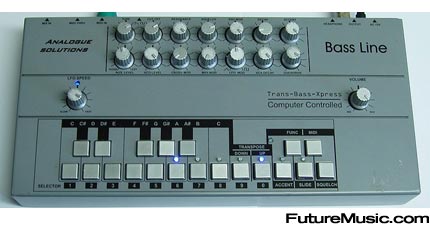 Features:
• VCO level
• External Audio level
• Noise level
• Squelch – to add more resonance
• Cross mod (VCO to Cut-off)
• MIDI Mod (MIDI control of Cut-off from Velocity or a Controller)
• LFO Mod / LFO Speed (Square and Triangle)
• VCA Decay
• Overdrive
• Minikeyboard to audition the sound
• Manual Accent and Slide buttons to overide the MIDI sequence
• Squelch button – to add instant squelch
• Audio input – through filter
• Headphone socket
The trans-bass-xpres also uses as many analog components as possible, but many of the original goodies have been discontinued. Interestingly, there is no internal sequencer, which the blokes feel will invoke a massive debate on the sound, but they made the choice and are sticking with it…
The MIDI implementation is straight forward note on/off, accent (from +80 velocity level), slide (by overlapping note) and control of cut-off from velocity or a controller.
The Analogue Solutions trans-bass-xpres sells for £499 + VAT. More information on the Analogue Solutions trans-bass-xpres.