Freestyle Audio Adroitly Expands Waterproof MP3 Player Platform
Freestyle Audio recently introduced a waterproof and shockproof MP3 player. The player is submersible up to 10 ft. and includes form fitting, re-sizeable earplugs designed to keep sound in and water out. It is very lightweight and has built in cord management to keep the wires in check.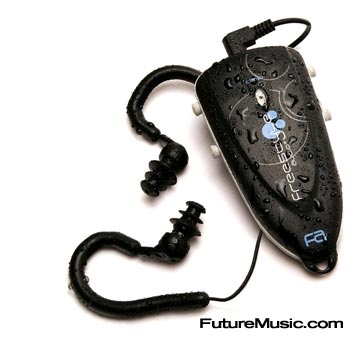 Features:
• Waterproof. completely submersible up to 10 feet
• Shockproof, durable design allows for skip free audio
• Holds and plays up to 320 songs
• Easily download mp3 files with USB interface
• Built-in rechargeable battery
• Up to 40 hours playtime per charge
• Lightweight unit weighs less than 35g and floats
• Easy to use function buttons
• PC/MAC compatible
• Includes waterproof earbuds, sport earbuds, neoprene armband & USB cable
As soon as the DMP waterproof player hit the market, Freestyle Audio went on a strategic partnership/co-branding rampage that reveals this is a savvy concern who wants to quickly expand into new territory that has been largely ignored by other MP3 player manufacturers. While we haven't had a chance to TestDrive the DMP ourselves, we are quite bullish on a technology concern that forges ahead to pioneer new markets.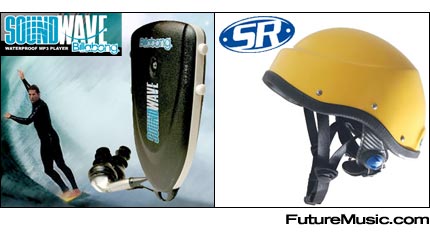 Freestyle has recently partnered with Shred Ready, a kayak helmet manufacturer, to combine Freestyle Audio's waterproof MP3 player with Shred Ready's line of action sport paddle helmets and a set of waterproof audio earflaps. In addition, Freestyle has developed the SoundWave wetsuit with Billabong that integrates its MP3 player into a wetsuit.
More information on the Freestyle Audio Waterproof MP3 Player.