Allen & Heath Releases The Xone:1D – DJ MIDI Controller
Allen & Heath have completed the Xone Family with the release of the Baby Bear Xone:1D, a dedicated MIDI controller connected and powered via USB, which can be used to control leading DJ software such as Ableton Live and Traktor3. The 1D complements the Papa Bear Xone:3D mixer/controller and the Mama Bear Xone:2D controller with an integrated soundcard.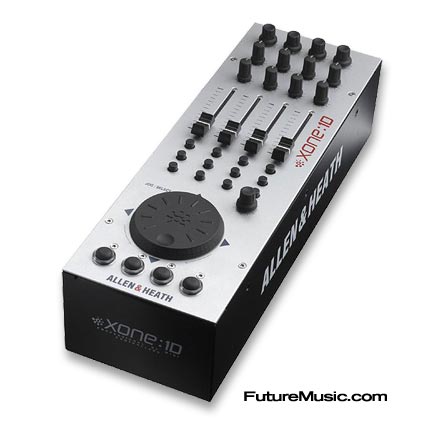 As well as the USB connection, the Xone:1D has 5-pin DIN MIDI sockets for connection to other MIDI-enabled devices, and features five 60mm linear faders, eight detented rotary pots, 19 push buttons – four of which are illuminated, five rotary encoders with "push to switch" function, and a multi-function jog wheel with switched navigation control. As with the Xone:3D, all the MIDI controls can be mapped for use as navigation controls for DJ or production software, providing the user with the same tactile control of performance software.
The unit can be placed alongside any standard DJ mixer to add digital control, and if a Xone:2D is added, presents the equivalent feature set to a Xone:3D around your favorite mixer. Very cool.
The Allen & Heath Xone:1D will reportedly cost €295 / £199 and be available sometime in June 2007. More information on the Allen & Heath Xone:1D when it becomes available.