KRK Systems Unveils VXT Series Recording Monitors at MusikMesse
KRK Systems has unveiled the VXT Series studio monitors at MusikMesse. The VXT Series was created using stringent design philosophies similar to KRK's flagship close-field monitor, the Exposé E8B. The VXT Series has been designed to reproduce the true nature of the audio material and raises the bar for recording monitors used by professional engineers, musicians and DJs world wide.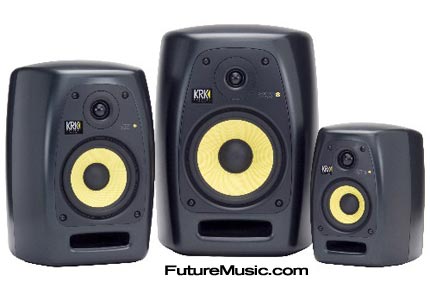 The VXT Series includes new proprietary woofers and tweeters, a newly designed curved face plate for excellent imaging, a new cabinet design that provides low resonance, improved structural integrity and extended low-end and slotted ports that greatly reduce port turbulence.
Its great to see KRK kicking out two new products in short order to give the troubled Stanton Group a nice boost.
KRK engineers started with the extremely functional cabinet design of the flagship monitor, the Exposé E8B to create a very high performance yet attractive line of monitors. The curved cabinet and faceplate provide excellent imaging characteristics and a wider sweet spot. The use of ABS structural foam as the cabinet material provides excellent damping characteristics and extended low end due to more internal volume. The ABS foam also absorbs shocks really well so the cabinet is extremely impact resistant.
With the VXT Series, KRK engineers set out to improve transient response in the system. The tweeter's dome is comprised of true silk, as opposed to cloth, which translates to fast transient response, excellent imaging and extended frequency response. The new woofer inside the VXT Series has improved transient response by using a stiffer, lighter cone that provides very low distortion and extended low-end. Â 
The VXT Series features tamper resistant switch covers to protect against others changing your personal settings, integrated Omni Mount support for easy wall or corner mounting, ground lift, defeatable limiter and auto mute controls, and high and low frequency adjust switches on the VXT6 and VXT8.
The new KRK Systems VXT Series monitors will be in stores in late May and have the following list prices per speaker:Â  VXT8: $799, VXT6: $599, VXT4: $399. More information on the .