Adam Audio Premiers New Hi-Fi Speakers
New Home Series Based On Their Studio Monitor Technology
Adam Audio has announced a line-up of home Hi-Fi speakers in the US market. The Pencil is an elegant 3-way floor-standing speaker that delivers a surprising contrast between its appearance and the deep, powerful bass it can reproduce. The no-compromise crossover section allows the connected power amplifier maximum control, as its resistance stays below 0.2 Ohms. The Pencil's outstanding frequency response of 35 Hz to 35 kHz, dual HexaCone woofers, ART folded ribbon tweeter, and high power handling combine solid performance. A choice of four custom finishes is available and The Pencil also carries a 10-year warranty.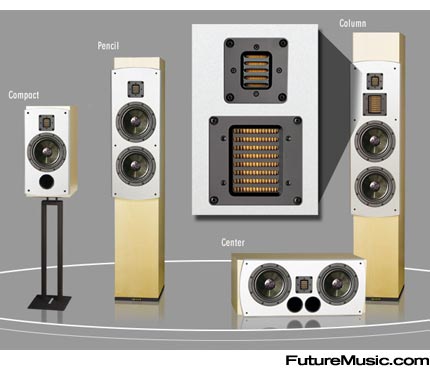 "The ADAM HIFI line is designed to deliver the same accurate reproduction as the Adam Professional Monitors used in top recording and production studios around the world," said Jim Latimer, National Sales Manager for Adam Audio USA.
Adam Home Speakers incorporate the latest technology to deliver the kind of performance demanded by the most discerning ears. As in their professional powered monitors, Adam uses ART folded ribbon technology and HexaCone woofers. Accelerated Ribbon Technology, or ART, is a unique folded ribbon tweeter designed to provide all of the advantages of traditional ribbon tweeters with none of the drawbacks. Adam's folded tweeter diaphragm expands and contracts in an "accordian-like" fashion, moving the air in a 4 to 1 ratio rather than the 1 to 1 ratio of traditional ribbon or dome tweeters. This results in more efficiency and accuracy with less ear fatigue. The tweeter delivers a coherent soundstage with a very generous "sweet spot," and a dispersion pattern equal to or greater than a dome tweeter.
HexaCone woofers feature a Nomex honecomb vacuum-coated on both sides with Kevlar, resulting in an acoustic surface that is 70 percent more rigid than comparably sized cones of other materials, but is as much as 30 percent lighter in weight. This makes a very accurate speaker for bass and midrange frequencies that is virtually distortion-free.
Other models in Adam's HI-FI line include The Compact, a smaller 2-way companion to the Pencil that uses a single HexaCone woofer and ART tweeter, and the Column, a larger 4-way floor-standing system incorporates two HexaCone woofers, an ART tweeter, and an ART midrange unit for extended detail and resolution in the midrange frequencies. For surround sound applications the Center uses the same components as the Pencil in a horizontal orientation, and the SW260 is a 200-watt active subwoofer with a single 10″ woofer.
No pricing or availablity have been announced. More information on the Adam Home Hi-Fi Speakers.