Sagem Announces My Dual Radio 700 – Internet Radio Alarm Clock
Sagem has announced the feature-rich, My Dual Radio 700 internet radio boombox. The My Dual Radio 700 features a small footprint and a military-radio lopsided design with a pronounced antenna. It plays Internet Radio stations via hard-wire Ethernet or Wi-Fi and includes a FM tuner. It also features a USB port for RDS and MP3 action.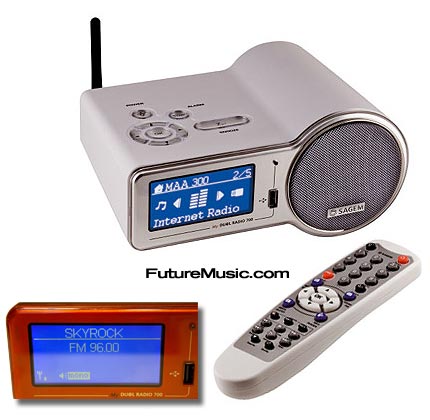 It comes packaged in a sleek plastic casing and features a very sharp LCD screen and an intuitive operating system. Other features include a 3.5-millimeter headphone jack, wireless remote, RCA stereo outputs, two-watt amplifier, and an alarm clock. The sound quality can't be all that great, but we've been surprised before, and it has RCA outputs to kick it to your sound system.
The Sagem My Dual Radio 700 will drop sometime this Spring for around €150 / $200. More information on the Sagem My Dual Radio 700.