Bum Rush The Charts
Podcasting gets little respect from traditional media. To them we're little more than a joke, than amateurs. What they don't understand is that podcasting is more than just a delivery mechanism – it's a social movement. People are sick of the watered-down, cookie-cutter content that networks and record companies expect us to enjoy. People are tired of watching friends and loved ones get sued by record labels who only care about profits and nothing else, not even the artists they supposedly represent. We want and deserve more. On March 22, 2007, we're going to change that with your help.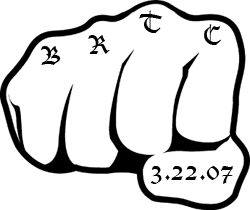 A consortium of bloggers and podcasters are urging their fans to join together on March 22nd and make an independently released track #1 on the iTunes chart with a campaign titled: "Bum Rush The Charts"
"Mine Again" by the San-Fran band Black Lab was chosen for two reasons. One, the band was dropped from not just one, but two major record labels (Geffen and Sony/Epic) and in the process forced them to fight to get their masters back. Second, every commission made on the sale of "Mine Again" will be donated to college scholarships by the band.
By organizing a diverse group of people to vote with their dollars, the planners hope to send a message to the major labels both about the multitude of great music they neglect and the power of the Internet.
More information on Bum Rush The Charts.