Edirol Introduces New Colors For R-09 Portable Recorder
Edirol is releasing two special edition models in red and white for their R-09 portable digital recorder in Europe. In addition, the concern is offering several new accessories to make the R-09 even more versatile.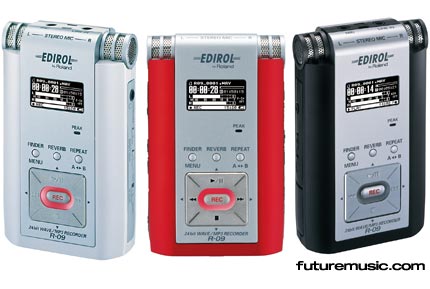 The R-09 records to a SD data card (a 64MB one is included) via the built-in stereo mic in either 24-bit / 48kHz or in the compressed MP3 format.
Features:
• High-quality 24-bit/48kHz or MP3 recording and playback
• Records to SD card (64MB card included)  
• Stereo condenser microphone built in  
• Mic and Line audio inputs, input level controls; USB I/O  
• Easy operation, including one-touch record, auto gain record, low frequency switch, A-B repeat feature and reverb effect
• Superb, user-friendly graphic display  
• Ultra portable – half the size of the R-1
• Long battery life, takes two AA batteries
• External PSU supplied
The Edirol R-09, R-09R (Red) and R-09W (White) are available now in Europe for £299 or €439 inc VAT. CS-15 stereo mic for R-09 including desktop stand, mount and windscreen £99 / €149. New OP-R-09P Carry case pouch for R-09 £24.99 / €34.99. New RAM-4190 Earphone set with carry pouch for R-09 £24.99 / €34.99. More information on the Edirol R-09.