T-Mobile's New Nokia 5300 XpressMusic Phone
Get yesterday's music phone technology tomorrow!
Budget mobile carrier T-Mobile has inadvertently leaked specs and their sales sheets on their upcoming Nokia 5300 music phone. Here's what we've learned from the spec sheet: Music Player with External Controls so you don't have to go through your phones lousy navigation system to play your choons. Includes a 1 GB memory card, which can hold up to 240 songs. It has Stereo Bluetooth Connectivity and a 1.3 Megapixel Camera with Video Capture and Playback. Yadda, yadda, yadda…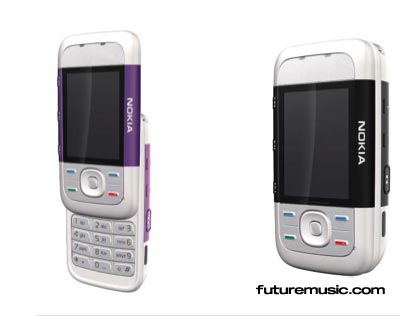 And then the basic feature set: Caller ID, VoiceMail with message-waiting indicators, Call Waiting, Call Hold, Conference Calling, Zzzzzz…
Network: GSM 850//1800/1900 MHz
Size: 3.64 high x1.90 wide x0.81 thick
Weight: 3.75 ounces (with battery)
Battery: BL-5B, 860 mAh
Standby Time*: Up to 225 hours
Talk Time*: Up to 3.2 hours
Display: 262 K, 2 Inch full-color screen
* Your mileage may vary
The concern even allowed access to their Sales sheets, here's an excerpt:
Target Audience:
Young and social segment. Primarily 16-24 years, secondary 25-34 years "young." They want music as part of their everyday life. They like personalization and items that make them unique. (And a bush-league cell network)
This device is not meant to replace an iPod or other MP3 player. It should be positioned as a supplement for everyday listening of your favorite songs. (So what good is it? We've had phones like this for two years now…)
A customer might tell you this: (Oh, this should be good…)
"I carry around too many electronic devices and it's hard to keep track of them all. I wish I could have something that meets all my needs: allows me to stay in touch on the go, lets me listen to and store my music, and looks cooler than anything my friends have." (That's exactly how I'd put it…)
T-Mobile has the solution! The Nokia 5300 XpressMusic is geared toward young and social customers who are interested in a device that lets them make music a part of their lives wherever they go, and without having to carry around many electronic devices. (Wow, what an amazing pitch, I'm sold!!)
More information on the Nokia 5300 XpressMusic Cell Phone.