VirSyn Releases miniTERA 2 (Universal Binary)
VirSyn has released miniTERA 2 (Universal Binary), the concern's simplified approach to sound design. Every preset in miniTERA has a built in Sound designer which presents you a set of up to eight meta parameters for convenient access to the most important elements of the sound. A couple of tweaks later, and the sound becomes your own.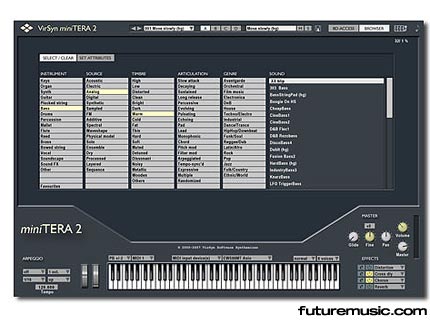 New Features:
• 100 new presets/sounds
• Easy Sound browsing with categories and attributes
• Up to four layer per preset for massive sounds
• Onboard reverb effect
• Dual mode for modulation effects
• Modified signal flow for better transparency of layered sounds
• MIDI channel selection
• Intel based Mac compatibility
• VST 2.4 compatibility
Bugfixes:
• Crashes on some hosts with multiple miniTERA instances
VirSyn's miniTERA 2 is free of charge for all TERA 3 users and is available after registering TERA 3. More information on VirSyn's miniTERA 2.