PCDJ Readies Reflex Pro DJ Software For Spring Release
PCDJ has released some new specs on their new Reflex DJ software, designed by by Jorgen Hedberg, who was the original founder of PCDJ in 1998. Hedberg's 1200sl software was the first dual player software program to be sold commercially. Hedberg has been working on this new high-performance PC/MAC pro DJ mixing software for the past 5 years.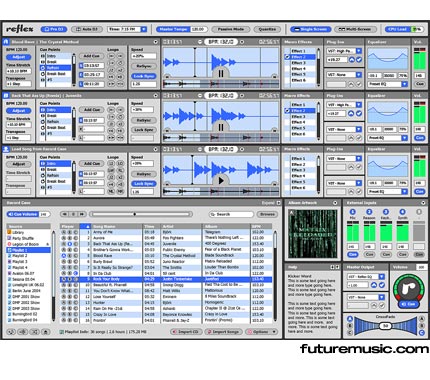 Reflex boasts more than 100 new features not found in the company's popular PCDJ FX VRM dual audio-file player. "We compiled a wish list from many thousands of PCDJ FX VRM pro users and incorporated the most-asked-for features into a dream package for digital DJs," says PCDJs product manager, Andrew Van Almen. "Every tool a pro DJ needs to produce studio quality mixes and remixes has been incorporated into Reflex."
In addition to giving DJs the ability to tweak tracks by adding VST plug-ins, they now have three independent players with interactive waveform display. This makes cueing and looping easier, faster, and friendlier. With their new Beat Grid and Quantization technology the DJ is fully assisted with bar detection and beat location marking, so it knows where the beats are, and also the start of the bars. This can be used for seamless auto-beat mixing, or can be turned off for normal real-time user control.
One of the best features, in our opinion, is that the Graphic User Interface (GUI) is vector based. This means that you can customize individual elements on the page to our own personal specifications. You can stretch out the waveforms as large as you like, change the size of any module, remove modules, and even un-dock them and move them to another monitor.
Reflex has many versatile control options: time-coded vinyl/CD control, full MIDI, PCDJ's mediocre DAC-2 or DAC-3 controllers, or any combination of the mentioned. PCDJ Reflex also retains all of the significant features of PCDJ FX including automatic BPM extraction, 28 cue-point-per-song capability, and Automatic Beat Matching – but greatly improves upon time stretching and pitch shifting.
Features:
3 Track/Loop Players: Reflex has the 3 players that can also function as samplers. Each player supports full analog or digital transport capability, looping and playback in both directions.
Time-Code Control: Reflex supports our own Vinyl/CD time-code, but also offers support for the following time-code:Â  RANE Serato Scratch live (v1 and 2), Final Scratch, Ms Pinky, PCDJ Scratch, Torq
Interactive Waveform Display: Each player supports an interactive waveform display. This makes cueing and looping easier, faster, and friendlier. Grabbing the wave with the mouse is also supported.
Support For Standard Digital Audio Formats: Reflex supports playback of MP3, Unprotected AAC, WAV files (many formats), and AIF files, OGG-Vorbis, FLAC and Redbook Audio-CDs.
Sample-Accurate Cueing: All cueing and looping is done with sample accuracy, quantization can also be used as and aid. Cueing can also be done automatically, so Reflex can provide access to the very start of any track.
Pitch Shifting and Tempo Shifting: Reflex supports high quality (not buffer based) pitch shifting and tempo shifting independently of each other
Scratching: Reflex provides interactive scratching via the mouse, DAC controller, any midi input device or time code.
Performance Recording: Dedicated control file format for recording and editing a mix without replicating the audio material. This feature records all events as a series of MIDI commands. The user is able to export the complete mix-performance to WAV or MP3 from Reflex.
Automated Tempo and Beat Matching: In addition to allowing the DJ to beat match manually, Reflex is able to assist the DJ in automatically matching beats for perfect mixes. Reflex also uses Beat Track. This allows songs that have inconsistent BPM to be mixed accurately. "Beat track" also knows the start of the bar, this opens up very cool auto mix and help for users that don't know how to read bars.
Single Touch Loops: Loops with selectable multiples of bars can be set on the fly by only one key press. These loops are quantized for seamless looping. Loop can have 2 trigger points, and can easily be shifted, moved, cut and extended in real time.
Fully Automated Digital DJ Mixer: Full featured, multi-channel DJ mixer that can be completed automated. Includes assignable cross fader, faders for each source and boost and mute buttons. Mixer can also be set to provide automatic cross fades and fades and also synchronized mixing at pre-determined times, and in beat if with the selected auto mix rules. Furthermore a dub mode and an overwrite mode for automation should be included when trying to polish the mix in more than one go.
3-Band EQ: (-24dB…+12dB) Each band has a "kill" switch. Also, band pass/notch filter with variable width, resonance and cutoff frequency for each channel. EQ is fully automated with a dub mode and an overwrite mode for automation should be included when trying to polish the mix in more than one go.
Flexible Monitoring Options:
Separate monitor output supporting multi-channel, 3D and secondary soundcards or 2 mono outputs on a single soundcard. Sound output systems supported includes DirectX, WDM, ASIO, and Core Audio.
MIDI Control Over All Relevant Panel Elements: Reflex is fully MIDI controlled. All features are accessible from external MIDI controllers. A midi-learn function is included to simply select an element you wish to control, select midi-learn and then just move your controller to tell Reflex the corresponding midi-controller.  This applies to our DAC-3 controller as well. 
Automatic BPM Detection: Reflex provides automatic, hi-resolution BPM calculation. Once a track is loaded into the Reflex record case, BPM extraction begins automatically.
Automatic Bar Detection/Beat tracking: Reflex provides bar detection and beat location marking, so it knows where the beats are, and also the start of the bars.
Automatic Quantization control: Reflex can be set to different quantization resolutions. This ensures that user always starts, inserts or adds other effects on the set resolution. This feature, in conjunction with beat tracking, allows Reflex to automatically adjust any user errors. This can of course be turned off.
Normalization:Â Reflex allows for loudness detection on audio sources. If one track is quieter than the previous, Reflex can compensate for it.
Turntable Brake: Reflex also features some interesting turntable effects such as Turntable Brake and Start.
Tempo Effects: Reflex also features tempo effects; these are preprogrammed scratch, repeat, spin up/down effects that will be performed in beat when user triggers them.
Play List Logging and Dynamic Lists:Â Complete logging of all tracks that are played during a performance.
Dynamic lists can also be defined, such as top20, etc.
Complete Media Management: The Reflex Media Management component aids in the archiving and storage of thousands of song files. It can also be used to extract audio from CDs and convert media to other formats. The Media manager also provides line-in recording so that DJs may add other media sources such as tapes and LP's. Non-performance features of the Media Manager are separated from the actual Reflex interface. This allows for a small footprint performance environment. Internet support for CD-Grabbing with the feature to keep recognized CDs in the database (i.e. you connect to the internet once and every CD that has been identified will show up the same every time you put it in again – even without connecting to the internet). Database functionalities (like search by artist, length, genre, …). A record case player is also included so the user can preview his tracks without loading the track in a player.
 
Auto Play Features: Reflex supports the standard array of auto play functions such as shuffle play, list play etc.
Plug-In Support:Â The digital mixer section of Reflex supports VST plug-in effects with a maximum 2 plug-ins on each player.
MIDI: Reflex can lock all its players to a master clock, or send out clock to other applications or hardware.
Customizable GUI: Color themes for the GUI can be chosen and customized by the user.  Reflex also includes support for "Virtual Controllers" – these are like skins as they can look like anything you wish, but they communicate with Reflex via midi.  We supply 3 options with the product at purchase, but users can download and SDK and build one for themselves and submit them to our community. 
System Requirements: Windows// Windows XP, Pentium-II 800 MHz, 64 MB RAM, 16 bit sound card, CD-ROM 24x. Macintosh// Mac OS X, PowerMac G4 867 MHz, 64 MB RAM, 16 bit sound card, CD-ROM 24x
PCDJ's Reflex currently ships with two user options, Reflex LE (light edition – stand alone) and Reflex TC (time-code – ships with two
pieces of time-coded Reflex vinyl and two time-coded Reflex CD's) Reflex LE's will retail for $279 and Reflex TC's will set you back $329. More information on PCDJ Reflex.