Image Line Updates Sytrus Synth To Version 2.5
Image Line has updated the VSTi version of Sytrus virtual synth to version 2.5. The update comes hot on the heels of the recent release of version 2 just a month ago. Sytrus' 64x oversampling features 6 complex operators that can act as independant oscillators for subtractive synthesis, or can interact to create more complex and evolving sounds using FM (Frequency Modulation) or RM (Ring Modulation) synthesis. With harmonics editing and waveshaping, virtually any timbre you can imagine can be created. Equalize your presets through Sytrus' fully parametric 3-band equalizer, which can be set to process the output bus, the effects bus, or both. New in Sytrus 2: you are now able to customize the filter type for every band (low-shelf, peaking, high-shelf).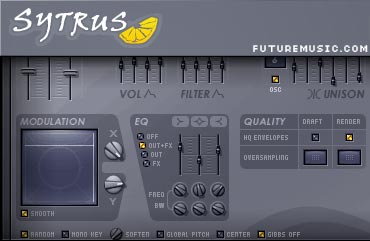 Enhancements:
• Ctrl+shift to bypass point snapping in envelope editor
• Multilevel undo & display updates in envelope editor
• Hint in harmonics editor not lagging anymore
• Small UI changes & optimizations
• Little speed improvement when processing arpeggiated/gated presets.
• Speed enhancements when triggering voices, computing & importing shapes
• Slightly improved plucked string generator
• Little speed & quality enhancement and now up to 256 harmonics per operator
• Fixed rare crash when editing waveshaper envelope
• Unison panning, volume and pitch now update running voices when automated
• Added bipolar LFO tension option to LFO's
• Added cherry phaser filter
• Support for note off velocity
• Unlink velocity from volume, link velocity & release to attack & release
Sytrus has a unique feature dubbed Gibbs Reduction.This new option is a solution to an unwanted side-effect of FM synthesis called the 'Gibbs phenomenon' causing unwanted low level oscillations (ringing) around the point of sharp transitions in output amplitude.
The Sytrus 2.5 update is free, but the DXi version has been eliminated. More information on the Sytrus 2.5 update.