Beatport Announces The Beatport Player
Beatport, a concern from Denver, Colorado, has announced the Beatport Player, a device for dance music oriented websites to put a Flash-based player on their site. The Player can be programmed to showcase Beatport's Top Downloads of the Day, Releases from a specific genre, artist, or label, a DJ blessed Chart, or their entire catalog.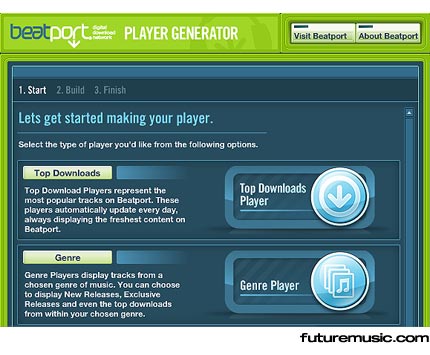 This is a great way for dance music fans to incorporate the latest tracks onto their blogs, MySpace pages, or personal sites without having to do any heavy lifting. Beatport takes you through a simple 3-step process that will have music blasting out of your site in no time.
The Beatport player allows for little customization beyond the aforementioned breakdowns, and you cannot change the size, nor the colors of the player to match your site, so this will not appeal to larger portals.
The Future: Beatport should develop the Beatport Player into a robust Affiliate Program that will permit different sizes, color selection and other customization, while giving larger sites that display the player, a cut of the revenue generated from the traffic and promotion they are providing the electronic music industry's leading online store.
More information on the Beatport Player.