Mixvibes Announces The U46MK2 DJ Sound Card
Mixvibes has announced the U46MK2, a USB sound card, or what the concern calls a "mobile recording interface" for their Digital DJ software products. Mixvibes, a company that flies for the most part under the radar, offers a complete package of digital DJ products including time-coded records and CDs. Their new U46MK2 offers a 4-IN / 6-OUT multi-channel audio interface, 2 Phono inputs and a separate Mix output.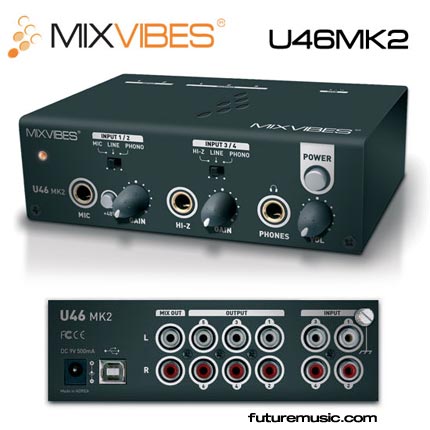 Features:
• 4-in 6-out multi purpose USB audio interface
• 2 phono inputs and 4 line inputs
• Microphone inputs with gain control
• +48V phantom power for condenser mic.
• Direct instrument input for Electric guitars
• (Hi-Z) with gain control.
• 6 line analog outputs with separate mix output
• Headphone output with level control
• 4 channel recording and 6 channel playback at the same time; full duplex
• 4-in 6-out at 44.1 kHz / 4-in 4-out at 48 kHz
• WDM, MME, ASIO, and DirectSound support
• Ultimate Audio Tools software package with the full version of MixVibes 3DEX
The U46MK2 will be available in March 2007 for $199. More information on the Mixvibes U46MK2 DJ sound card.