Michael Jackson Readying Digital-Only Album
Michael Jackson, the reality-challenged music superstar, is reportedly readying a new album of brand new tracks that will be released online only. Some rumors mention a Digital Download store as a potential partner, but nothing has been cemented.
Despite Mr. Potato Head plastic surgery, multiple child molestation scandals, dangling his child off a high-story balcony and other episodes if insanity, he is still one of the biggest music stars on the planet. In 2001, Jackson's album, Invincible, sold millions worldwide.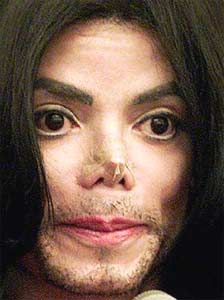 Jackson is now in the studio with a number of dynamic collaborators, including will.i.am of The Black Eyed Peas. will.i.am remarked recently that Jackson would release his next project from his own website as downloads only, without the help of a major label or any other music industry conglomerate. "Michael is the one act who doesn't need a record label," will.i.am said. "He can do it all through social networking sites."
The Future: Talk about a Litmus Test! Prince tried to go his own route by releasing his music solely online and failed pretty miserably. But Michael Jackson is a different bag of tricks. Can Jackson, who's got a tremendous global audience, but is basically certifiable, do it??