d16 Group Releases Drumazon – TR-909 Emulator Plug-In
The d16 Group has released Drumazon, a Roland TR-909 emulator. Drumazon offers all the original functions of the 909, plus many exciting new features.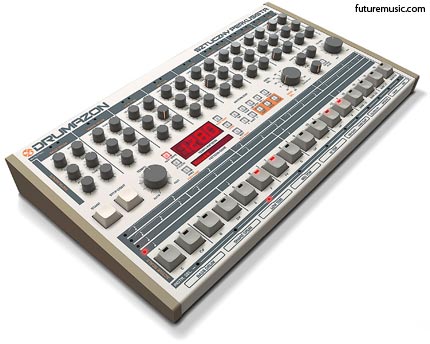 All the instruments are synthesized in exactly the same way as the original. All the nuances and detail of the original are captured perfectly. In addition, all Drumazon instruments have enhanced controls. This extra functionality allows the user to adjust the sounds further than on the original unit. This opens up a whole new world of sound creation. Since the first pre-release version was announced Drumazon has undergone several big changes, including improving the instrument models, adding new controls and many other enhancements.
Features:
truly emulated instruments' synthesis
perfectly scaled knob ranges with few modifications enlarging spectrum of the sounds
exhanced control of instruments' sound
dynamic signal routing from instruments to outputs
user defined plugin outputs settings
mutes/solos for each instrument (affect triggerring not just the signal)
fully controllable via MidiCC
quick midiCC assignation with MidiLearn function
many ways of controlling the device:

external mode (note mode)
internal sequencer (pattern mode) with 3 submodes

external mode:

midi map equivalent with the classic drum machine's map
midi tune and velocity controls instruments' levels and tunes

internal sequencer:

8 banks with 12 patterns per bank
each pattern up to 16 steps of length
each pattern defined with one of four available measures
each step can be defined normal or flamed and accented or not
shuffle mode
flam mode
tap mode
chain mode
Shuffle, Flam and TotalAccent values defined globally and per pattern
Scale function and intelligent Rescale (automatically stretches pattern to the chosen measure)
built in Randomizer (selection of instruments to random, steps to be affected, frequency of the randomized notes and more)
patterns import/export via human readable xml files

two modes of synchronization:

precise synchronization to the host tempo
synchronization to internal clock – tempo controlled in the range 30-303 BPM (+-0.1)

individual presets per instrument with preset manager to easy control
Drumazon has a flexible output configuration. Every instrument's audio signal can be routed to any of the 11 outputs. Drumazon has extensive midi control. Midi notes can be used to trigger each individual sound. Alternatively, the internal sequencer can be used. This can be set to play using Drumazon's internal clock or set to synchronize perfectly to the host sequencer. Most of Drumazon's parameters can be automated within the host and also controlled using MidiCC with an external controller. An easy-to-use Midi Learn function allows reassignment of any of the parameters.
A Randomizer function is also provided within the internal sequencer. It can be used to make simple changes to a pattern or create a whole new one – ideal when your creativity needs a boost.
But the real question is: Does it have that 909 swing?
Drumazon costs $179.29 / €129 is available now as a VST instrument for Windows and Mac OS X Universal Binary. Demo versions are available. More information on Drumazon.