Xponaut Updates Voice Tweaker To Version 4.1
Xponaut has updated Voice Tweaker to version 4.1. Voice Tweaker is what Xponaut calls a "natural sounding pitch shifter and auto tune plug-in." With this new version of Voice Tweaker you can pan the processed and unprocessed signals individually, and utilize the new Wave Hold parameter for spectacular effects. Also, it has a completely redone user interface with a more logical and clean disposition of parameters.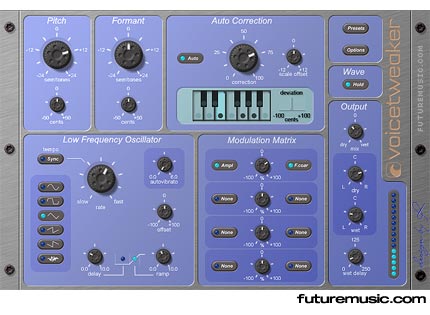 For those new to Voice Tweaker, it is a VST and AU plug-in pitch shifter with the ability to transpose the pitch of a monophonic signal (a voice or an instrument) up to 2 octaves, up or down. No chipmunk or monster voices, unless you want to of course, because Voice Tweaker can also transpose the formant of the signal an equal amount of 2 octaves up or down. Add to this a full fledged pitch correction(auto tune) section with MIDI control, advanced modulation matrix, vibrato and you have a very versatile tool at your finger tips.
Xponaut's Voice Tweaker costs $99 / €77 and is available now. The update is free. More information on the Xponaut Voice Tweaker.