eJamming Announces AUDiiO – New Audio Collaboration Technology
eJamming has unveiled AUDiiO, the first technology to enable any musician, acoustic or electronic, to jam with others in real-time over the net. The new software and service will be available in late March 2007. eJamming AUDiiO takes the company's current MIDI-only offering, eJamming Studio 1.6, to a whole new level, opening real time online collaboration to all musicians.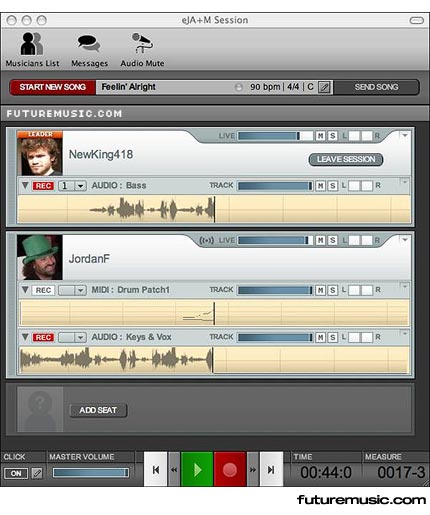 eJamming AUDiiO provides a virtual practice and recording studio where musicians can write, rehearse, record, learn and play with each other over the Internet, in real time and in sync. All they need is access to a computer, broadband connection, audio interface device and microphone.
eJamming AUDiiO incorporates sophisticated, patent-pending algorithms, effectively resolving the delays associated with transmitting data over the Internet that have prevented real-time online music collaboration in the past. Using proprietary codecs and data-thinning schemes in tandem with eJamming's patented Internet delay management algorithms, eJamming AUDiiO achieves real-time synchrony among musicians in different locations. It enables musicians to keep solid time, which is imperative for musical performance.
eJamming AUDiiO includes a host of features designed to enhance the online collaborative experience such as CD-quality recording capability, searchable profiles that allow musicians to identify others with like interests, JamVite instant messaging so musicians can invite one another to jam, an automated calendar for scheduling online jam sessions, and full MIDI capability. The user interface is clean, contemporary, player-centric and easy to use.
A demonstration video of eJamming AUDiiO in action is now available online. Subscriptions to eJamming AUDiiO will cost $14.95 per month or $150 annually. Teachers and students are eligible for the $120 annual academic discount rate. More information on eJamming AUDiiO.