SoundToys Announces Audio Units Version Of Its Native Effects Bundle
SoundToys Inc. has announced an Audio Units version of its SoundToys Native Effects bundle. The upgrade this will make SoundToys plug-ins available for Logic Pro, Logic Express and GarageBand and all compliant Audio Units supported applications in addition to the already support Pro Tools RTAS and AudioSuite formats. The bundle was formally only available as a TDM version.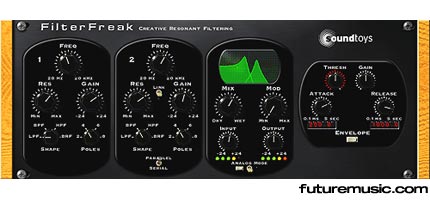 The AU SoundToys Native Effects Bundle includes:
• EchoBoy: Studio quality modeling Echo/Delay with groove control
• FilterFreak: Analog modeled resonant filters with extensive modulation
• Crystallizer: Pitch-shifting time-splice delay with MIDI Sync
• PhaseMIstress: Emulations of classic phase-shifters with modern control
• Tremolator: Classic tremolo and MIDI locked rhythmic gating
• Speed: High quality tempo and pitch control
The AU SoundToys Native Effects Bundle will be available in the first quarter of 2007. No pricing has been announced. More information about the Audio Units SoundToys Native Effects Bundle.