Sinevibes Drops Gateboy – Advanced Gate Sequencer
Sinevibes has released Gateboy, an advanced gate sequencer which allows you to dynamically modulate the audio level. It features a unique pattern composer with variable rate, length and smoothness. Each of the pattern's steps, which has level and bypass controls, triggers a flexible envelope generator with adjustable shape and time. Gateboy is capable of a very wide variety of effects – from complex trancegates and intricate tremolo, to rhythmic strobes, expressive beat slicing and beyond.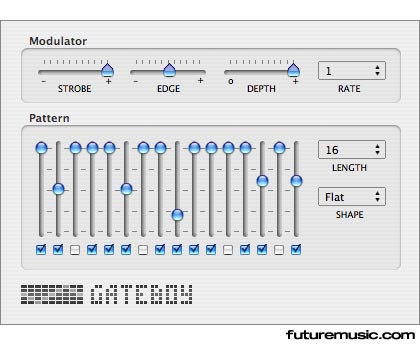 Features:
• Variable modulation smoothness and depth
• Pattern composer with up to 16 steps
• Multiple envelope generator shapes
• Variable pattern length and rate
• Step bypass switches
Sinevibes Gateboy is available now for $19 as a Universal Binary Audio Unit plug-in (Mac OS 10.3.9 or later). More information on Sinevibes Gateboy.