Cortex Introduces HDTT-5000 – Digital Audio Control Deck
Cortex has introduced the HDTT-5000, digital audio control deck. Cortex's top-of-the-line 5000 uses USB compatibility via Cortex's patent pending intelligent music database management system to enable DJ's to access, cue up, play, scratch, pitch, manipulate, and search digital music files from a wide array of storage devices (up to 4 with an powered external USB hub) including the iPod, external USB hard-drives and flash drives, CD-ROM, and even DVD-ROM drives.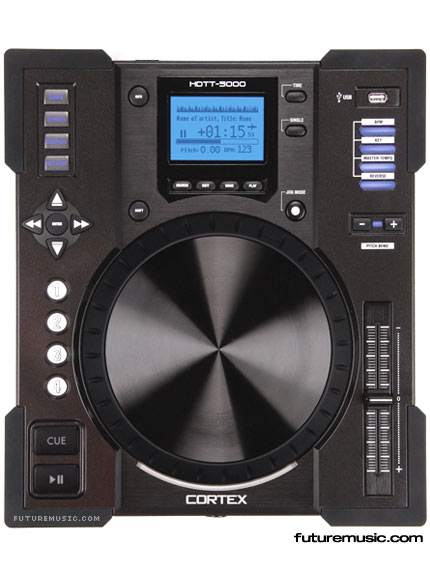 The HDTT-5000 incorporates a collection of advanced tools to meet DJ's demands for an even higher platform of performance than its predecessor, upping the ante to the next level. The 5000 delivers an expanded array of features including a powerful 12 effect DSP module (Filter, Flanger, Echo, Delay, Auto-Pan and 7 more), comprehensive Loop-Editing (4 loops per side), simple yet efficient Sample Bank (4 samples, up to 40 seconds per side), and automatic Hot Cue Point Manager (4 per side, when saved to the connected USB storage device).
All these features can be controlled easily through the unit's new backlit graphical LCD playback screens, which display everything from the essentials such as artist, track title, time elapsed/remaining to detailed information including file format and genre; it even offers a Waveform View. Add to that a Touch-Sensitive Jog Wheel for scratching effects, BPM counter, Key Adjust, and Master Tempo features, and ultra-precise pitch resolution (up to +/-24), and the HDTT-5000 is now a massively-equipped unit that will add a new level of creativity to Digital DJ performances
Intelligent Music Database Management
The HDTT-5000's database management system allows the user to search through a massive library of music within seconds. Create database files at a gig via the HDTT unit or the PC application (downloadable from the Cortex website) on a home computer with lightning fast speed. Users can search the same way that they would using an iPod or similar portable music player through a number of browsing options, including Search by Artist, Song Title, Album, and Genre. Easily search by a certain word or phrase to find tracks, even if you're unsure of the name. When the user inputs a keyword, it will search all Artists, Titles, Albums, and Genres, and show how many of each that it found.
Main Playback Screen
The backlit graphical LCD playback screens display info on any track in the catalog, showing everything from the essentials such as artist, track title, pitch, time elapsed/remaining to detailed information including file format (MP3or WAV), genre, and track length. Additionally, the HDTT-5000 offers a waveform view, which helps the club DJ "see" where the beat comes in, and at what point to segue into the next track playing.
Waveform Display Mode
Via the Cortex database software, available FREE from the Cortex website, HDC-1000 users will be able to create a waveform of each song on their USB storage device which can then be optionally selected to be displayed on the HDTT-5000's LCD screen.
CD/DVD Audio and Data Playback
No need to abandon your CD collection, the HDTT-5000 can play user-created CD-Rs, DVD-Rs and audio CDs with any compatible USB CD-ROM or DVD-ROM drive.
Performance and Protection
Variable Pitch Slider (+/- 4, 8, 16, 24%) and Ultra-precise Pitch Control – Precisely adjust the tempo of your mixes with a wide range of pitch options and ultra precise pitch in increments of 0.05% (in 4 and 8 pitch mode). Ultra-fast Instant Start – From Cue to Start, get into the mix with no delay. Auto-BPM Counter automatically tracks your song's beats per minute. Key adjust allows users to adjust the key of a track without changing speed. Instant Reverse is controlled by merely pressing a button on the face of the HDTT unit with no loss of tempo or pitch. Every Cortex HDTT unit features exclusive protection from accidental shutdown while playing. Simply press and hold the power button for more than 2 seconds to turn the unit off.
Firmware Upgradeable
Easily download new internal software from the Cortex website at www.cortex-pro.com.
VBR & CBR File Support
The HDTT-5000 can play all your MP3's; CBR or VBR at any bitrate up to 320kbps.
Efficient Sampling
Samples can be set and stored in any of 4 banks with the simple touch of a button. Samples can be trimmed and edited with the graphical user interface, and the samples pitch can be altered.
DSP Effects
The effects module gives the user an array of 12 effects (including Filter, Flanger, Echo, Delay, Auto-Pan and more) to choose from as well as truly comprehensive parameter setting capabilities. The HDTT-5000 allows users to edit EACH parameter in real time offering a more in-depth ability to modify the sound while still preserving the simplicity of the preset.
Comprehensive Realtime Looping
Up to 4 loops can be programmed with a loop-editing feature that allows points to be imported from saved hot cue points. Unlike a traditional CD player, the loops can be edited easily using the HDTT-5000's graphical user interface, which allows the loop to be trimmed until it sounds perfect. Loops may be beat synced as well – user has option of selecting 1/2/4/8/16 beat loops, as well as user-selectable time frames.
Cue Point Management
Cue points can be set like a normal CD player, so that the DJ can return to a certain time in the track just by pressing a button. The HDTT-5000 unit allows for 4 hot cue points, allowing the user to advance to a certain point in a song without any pause in playback, and can be used along with loops for live remixing.
Touch-Sensitive Digital Turntable Platter
Get the sound and feel of vinyl while preserving the convenience of digital formats. The HDTT-5000's large Touch Sensitive platter allows you to cue or scratch your track while rotating the wheel in either direction.
Storage Device Selection
Take that new digital promo or just-finished song from your iPod or USB memory flash drive and play it tonight! With 5 USB ports (and support for a total of up to 4 devices, 1 per port or 4 to a USB hub), the HDTT's device selection option allows users to connect and recognize multiple storage devices, offering the flexibility to access a variety of separate music databases simultaneously.
The Cortex HDTT-5000 will be available in May and will cost $899.00. More information on the Cortex HDTT-5000.