Way Out Ware Unveils KikAxxe – ARP Axxe Emulator
Way Out Ware has unveiled KikAxxe, an emulation of the classic ARP Axxe synthesizer with some enhanced features. Built with Way Out Ware's analog-modeling technology, the KikAxxe brings together the Axxe synthesizer, analog-style 16-step sequencer, a dedicated step-sequenced drum machine and a retro-themed delay/echo effect. Additionally, it contains modern conveniences like presets, MIDI sync and comprehensive MIDI-mapping capabilities.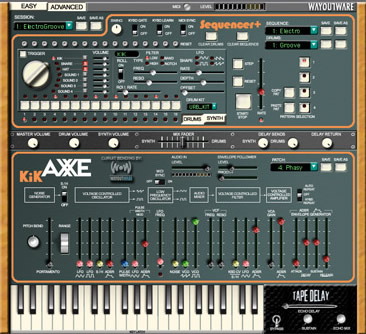 KikAxxe is a faithful emulation of the ARP Axxe analog synthesizer that descended from the venerable ARP 2600 in the mid '70s. Play it from a MIDI controller or the integral Sequencer +, an emulation of the ARP step sequencer that contributed to the signature sound of artists like The Who, Depeche Mode, 808 State, Vince Clarke, Jean-Michel Jarre, Billy Currie of Ultravox and Visage, and filmmaker John Carpenter. This combo gives you a powerful tool for creating distinctive synth bass lines. And to enhance lead lines and effects, KikAxxe also includes an emulation of the unique sound of the Echoplex—the original tape delay device that preceded digital delay units.
KikAxxe's Sequencer + also includes a complementary staple from the same era—a drum machine with dedicated step sequencer. With five sample-based drum kits, you'll find the sounds responsible for many hit songs across several decades—and then some. KikAxxe gives you the ability to create great bass and drum backing tracks in a single unit.
KikAxxe ships with a vast array of presets that give you access to the unit's vintage sound—even if you don't know anything about synthesis or programming. From there, it's easy to explore and modify parameters to start customizing the presets to your own tastes. And if you're a synth aficionado, advanced mode gives you access to every authentic parameter. You can even map MIDI controllers on to just about every KikAxxe control for a truly hands-on experience.
Features:
• 16-step, analog-style sequencer
• Sample-based drum machine with 5 kits and integrated sequencer
• Analog-style delay/echo effect
• Synth and drum machine can be assigned to different MIDI channels
• Comprehensive preset library
• Easy and advanced operation modes
Way Out Ware's KikAxxe has an MSRP of $69.95 and will be available in the near future for Windows and Mac OS X Universal Binary in VST, AU, RTAS and stand-alone formats. KikAxxe will be distributed by M-Audio in the States. More information on the Way Out Ware KikAxxe.