Universal Audio Announces UAD-Xpander
Universal Audio has announced the new UAD-Xpander, the first ExpressCard audio DSP expansion system for Mac OS X and Windows XP/X64/Vista laptops. Using an ultra-fast ExpressCard 34 connection (2.5Gbps differential serial link). ExpressCard is the new expansion standard in the latest laptops, such as the MacBook Pro. The UAD-Xpander has identical DSP power as the best-selling UAD-1 & UAD-1e PCI/PCIe series of desktop products, and is fully compatibily with all Powered Plug-Ins. Like its desktop siblings, the UAD-Xpander can mix sessions from 44.1khz to 192k. The UAD-Xpander conveniently leaves slower, USB & Firewire connections free for dongles, AudioI/O, and hard-drives while it operates at full PCI Express bandwidth.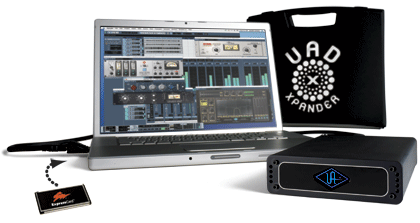 Features:
• 44.1-192k Mac/PC DSP Audio Accelerator for laptops
• Noiseless, Fanless, Alumi-Cool chassis design
• Ultra-fast (2.5Gbps) ExpressCard 34 interface
• Includes 14 Powered Plug-ins & UAD$ voucher
• Travel-Case with compartments for all components
• Optional UAD-Xtenda kit with PCIe desktop adapter
The UAD-Xpander will be offered in 3 versions: the UAD-Xpander Xpress (Estimated street price $999 including a UAD$500 voucher), the UAD-Xpander Xpert (Estimated street price $1399 including a UAD$1000 voucher), and the UAD-Xpander Xtreme (Estimated street price $2199 including all UAD plug-ins to v4.5 – almost $3000 value). The UAD-Xpander Xtreme will uniquely feature a highly polished chassis with custom Xpander logo. All UAD-Xpander's are expected to ship Q1 2007. More information on the UAD-Xpander.