Nucleus SoundLab Drops The MultiBoost Pak For Stylus RMX
Now that Eric Persing, the brilliant, yet eclectic, creative powerhouse behind Spectrasonics, has gone deep underground to work on a couple of new upcoming products, and several product updates, and won't be seen at NAMM or Frankfurt Musikmesse. Nucleus SoundLab has stepped in with the new MultiBoost Pak, a new collection of multi-patches for use with Stylus RMX. NSL lead sound designer Jeremy Janzen has attempted to push the boundaries of what's possible with RMX multi-patches – creating totally new grooves from the core sample material included with RMX. Layering, chaos, muted layers, fx, and edit groups are all put to full usage.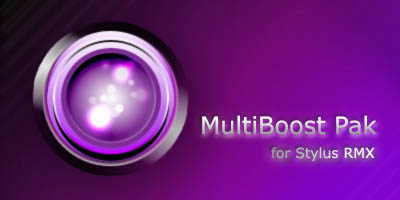 Features:
• 130 hand-crafted multi-patches for use in Stylus RMX.
• Covers a variety of BPMs between 58-145.
• Suitable for various musical styles, including film-score, dance, IDM, ambient, ethnic, down-tempo and more.
• Many patches include muted layers, which when unmuted can completely change or mutate the groove.
• Fully compatible with Stylus RMX 1.51c on Windows and Macintosh.
Nucleus SoundLab's MultiBoost Pak will be available this January for $29.95 via their website. More information on the Stylus RMX MultiBoost Pak.