Sony Oxford Announces Audio Unit Plug-Ins
Sony Oxford has ported its range of plug-ins to Apple's Audio Units platform. Now with the launch of Audio Units versions, Oxford Plug-ins are available for Logic Pro, Digital Performer, Bias Peak and even video applications such as Final Cut Pro. The initial Audio Units compatible Oxford plug-ins are: EQ; Dynamics and Limiter. The remaining four products – Inflator, Transient Modulator, Reverb and Restoration Tools – will become available in early 2007.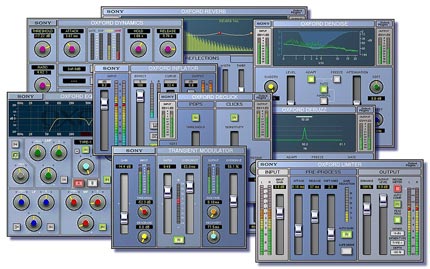 "We are really excited about expanding our plug-in range to Apple's platform," says Sony Oxford Sales & Marketing Manager, Nathan Eames. "It is clear that there is a vast number of Logic and DP users who demand professional sounding plug-ins for their mixes. Now we are able to offer the Oxford plug-ins on this platform to help users achieve the highest quality mixes."
Purchasers of Sony Oxford's Native plug-ins will receive RTAS licences for Pro Tools LE and M-Powered as well as Audio Units licences. Pricing of Sony's Native plug-ins start at $207 and move quickly North. More information about Sony Oxford's Audio Unit Plug-Ins.