Yamaha Announces DTXPRESS IV – Digital Drum Kit
Yamaha has announced that it will be shipping the forth incarnation of the DTXPRESSdigital drum kit. The Yamaha DTXPRESS IV Special digital drum set features an all-new voice bank with samples of Yamaha's most popular drums including the Oak Custom and Maple Custom.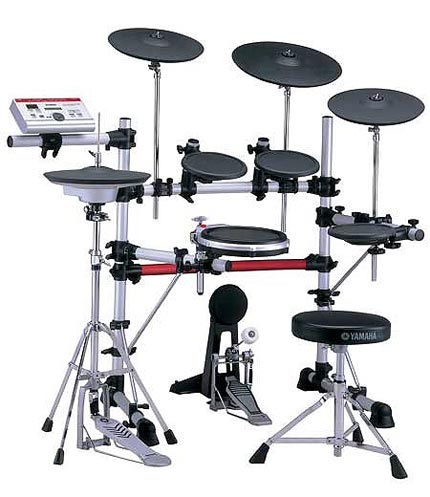 The cymbal pads on the DTXPRESS IV have improved response and feel, allowing every nuance of a drummer's playing to come through. As an educational tool, the DTXPRESS IV excels with a fully programmable click, Groove Check, and Rhythm Gate features.
When Yamaha constructs an electronic drum set, they embrace technology from their digital musical instrument division and combine it with know-how from their esteemed acoustic drum makers. Yamaha is the only acoustic drum company that makes electronic drum sets, providing a unique understanding of today's drummer's needs.
As part of the extensive design process, Yamaha calls upon their roster of top drum artists to help shape, tweak, and fine-tune the digital drum. The result is a set with a brain incorporating both electronic wizardry and a soul that is equally at home in the studio or on the stage.
Features:
• 50 preset & 20 user kits
• 427 drum & 22 keyboard voices
• TP100 3-zone snare pad with controller knob
• Programmable click with Groove Check and Rhythm Gate
The Yamaha DTXPRESS IV will sell for around $2100. More information on the Yamaha DTXPRESS IV digital drum kit.