DLO Premiers New iPod Nano Action Jacket
Digital Lifestyle Outfitters (DLO) has announced new versions of their Action Jacket, the popular workout case for iPod and iPod nano in iPod nano-matching colors. The Action Jacket for iPod nano is now available in nano Green, nano Blue and nano Pink.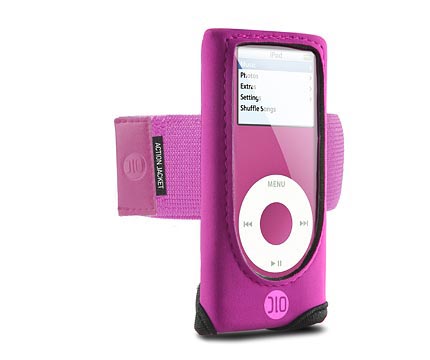 The nano-colored Action Jacket is a cushioned case with secure armband that allows easy access to the player's controls during any activity. It's 'workout safe' and protects the player from sweat or scratches and dings at the gym, during a jog, or even on the street. The comfortable armband adjusts to fit any arm size from toothpick to python.
Features:
• Available in new iPod nano-matching colors: green, blue, and pink
• One-size-fits-all armband
• Protective, cushioned built-in case
• Access to player's controls while in the case/armband
The DLO Action Jacket for iPod nano costs $29.99 and is available at iPod retailers nationwide and DLO's online store. More information on the DLO Action Jacket.