The Plus Deck Cassette Tape To Digital Converter Now Available
Plus Deck has released a Cassette Tape To Digital Converter that fits into a 5.25″ bay on the front of your computer and allows you to not only play your beloved cassettes, but also convert them to digital files.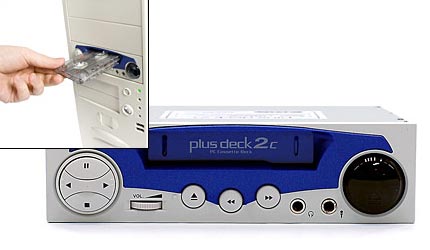 This front-loading cassette deck that can convert, edit and play tapes on your PC. Once you've hooked up the Plus Deck you can "rediscover the music and sounds you grew up with" in MP3 format, archive your collection, or simply use it to play tapes on your computer.
Easily installed in any spare 5.25″ bay of your computer, the Plus Deck is packed with user-friendly features and the conversion software is very user friendly. It even boasts auto reverse so you can play or record on both sides of the tape without ejecting it. Nuts! Now where's the 8-Track version??
The Plus Deck costs $129 / £99.95 and is available from Firebox.com. More information on the Plus Deck Cassette Tape To Digital Converter.