Massey Plug-Ins Premiers THC Distortion Plug-In
Massey Plug-Ins has premiered a new analog-modeled distortion stompbox plug-in, dubbed THC. THC delivers true analog-like sonic quality in either RTAS or TDM plug-in formats. Massey claims THC can be used to dirty up any audio material including vocals, organ, drums, and, of course, guitar – because THC is not a full guitar amp modeling suite, it's simply a distortion pedal.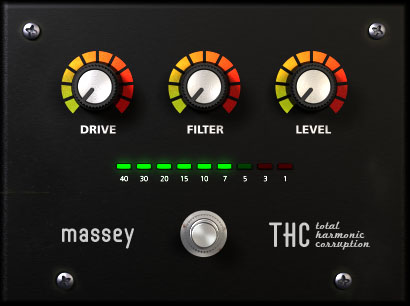 Like all Massey plug-ins, THC has an unlimited usage period and introduces no mutes or beeps to the audio in demo mode. However, THC's algorithm runs at a very high internal sampling rate (352.8kHz for a 44.1kHz session) – which translates into very low aliasing artifacts and a smooth analog-like tone, but it's very DSP/CPU hungry!
The full version is available for purchase at a price of $69. The aforementioned demo, which never expires, is available for download. More information on the Massey Plug-Ins THC Distortion plug-in.